Brain-Computer Interface Now in Use at Home!!! November 15, 2016
Posted by stuffilikenet in Applications, Awesome, Brain, Geek Stuff, Science, Star Trek Technology, Toys, Uncategorizable.
trackback
A 58-year-old woman ("HB") with ALS has had a functioning brain-computer interface (BCI) for a while now, and is able to communicate (slowly) with the outside world. She was facing total lock-in Real Soon Now, so any device which offers communication ability is welcome.
What it is: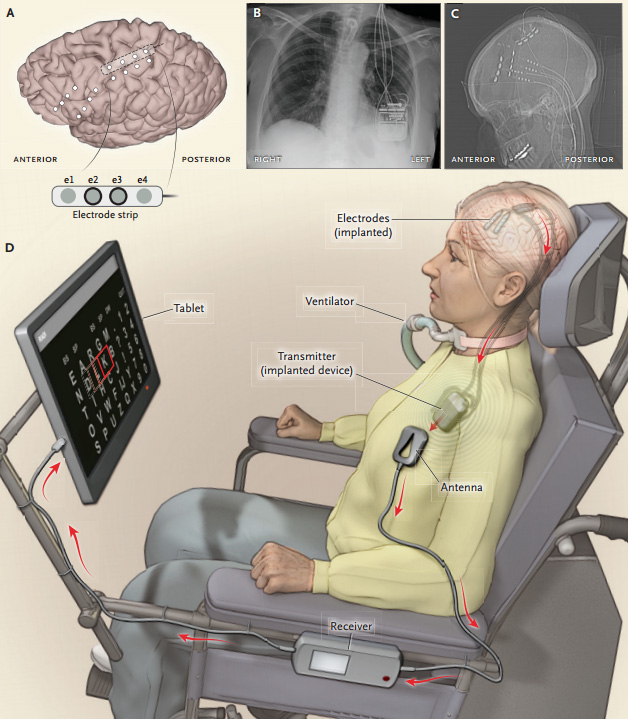 Electrode strips at the top laid across her brain like band-aids read faint electrical signals.  With training HB was able to "type" fairly quickly (words per minute, but still).  More work remains to be done on the interfacing software (I am imagining more inputs and a neural network to interpret her thoughts more and more efficiently), and HB is ecstatic to have a way t live in the world.  She would like to use the interface to control a wheelchair, for example, but that is a ways off.
Homework:  Vansteensel, Mariska J. et. al., Fully Implanted Brain–Computer Interface in a Locked-In Patient with ALS, New England Journal of Medicine November 12, 2016 DOI: 10.1056/NEJMoa1608085
Update: New Scientist has an excellent writeup as well.