Redshirts, by John Scalzi June 2, 2016
Posted by stuffilikenet in Books, Geek Stuff, Mutants.
trackback
Redshirts, by John Scalzi is a fun little read featuring a suspiciously Star Trek-like ship's enlisted personnel dying with frightening frequency on planet-bound missions. The "new kids" notice this and the real fun begins; they try to figure out why and how this is happening.
Well performed by Wil Wheaton (whose annoying character really should have gone on more away missions), this book deals really nicely with sci-fi tropes we know and love, and old TV shows we love irrationally.  Wil's reading is a source of great entertainment for me, as he always seems to put the right amount of astonishment into the voice of his unfortunate character's mouth.
Link goes to Amazon; also available at sfpl.org.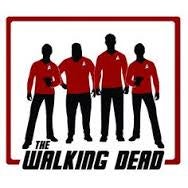 Not related, but related.